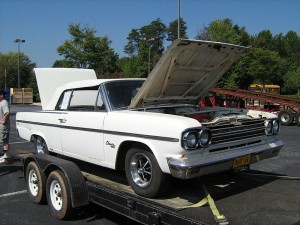 Transporting a non-running vehicle is a bit more complicated and a bit more difficult to do than transporting a standard automobile that runs and drives just fine. This is because of the way it's loaded onto the auto transport truck (and subsequently unloaded): vehicles are usually driven onto and off a carrier, so what do you do when the vehicle that you need to get onto the truck isn't running? Pushing it isn't an option; typically they have to go up steep ramps that would take multiple people pushing hard to get it up there. No, the best way to get any non-running vehicle onto the back of a transport truck is to winch it.
The problem with having to winch it onto the truck is that: a) it's incredibly difficult and demands a bit of skill and know-how in order to actually use it, and b) it takes a lot more time and effort than simply driving it onto the vehicle, which means the driver has to do a lot more work in order to load or unload it. Then there's the fact that there aren't a lot of auto transporters that even have a winch because most people ship vehicles that run just fine and they don't have the tools to install it, the knowledge to operate it safely or the time it takes to learn how to do it all and do it quickly. That's why many avoid using them. These factors are why non-running vehicles will cost you anywhere from $100 to $200 more than a running vehicle along the same route. And always make sure to let your representative know that your vehicle is not running, as that will save us and you a lot of time and hassle down the line.
If you are looking to ship a vehicle of any type, we here at Ultimate Auto Shipping can help. You can fill out our free online quote request form to the side of this blog post and receive a customized quote e-mailed to you within the next ten minutes. If you leave your telephone number along with your e-mail you will also receive a call from one of our friendly and knowledgeable auto transport representatives, who will call you to confirm you received your quote and ask you some questions to get some more information to better tailor your quote to your shipment. If you would rather call us, you can contact us toll-free at (954) 796-2023 to speak to one of our staff members about transporting your vehicle today.