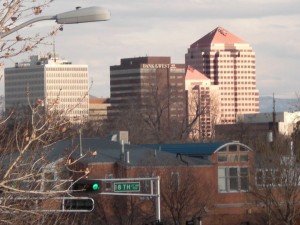 The city of Albuquerque has a population of over 555,000, making it the largest city in the state of New Mexico. It sits in the north-central part of the state and is a major transportation and logistics hub in the region, supplying outlying cities such as Alamogordo, Las Cruces, and Santa Fe. It anchors the Albuquerque Metropolitan area, home to over 1.1 million residents, and while its growth before 1950 was slow, after the end of World War II Albuquerque became a major player in the Atomic Age, as the military began making a major presence in the desert surrounding the city. Of course, this brought new people to the area, particularly military families, and as such by 1980 the city was as much a major city as any other in the U.S., with much the same growth/decline cycles coupled with a robust and diverse economy.
When shipping to or from Albuquerque you need to understand that while it sits along two major interstates it's not the most popular of auto transport locations. In fact, the southwestern U.S. isn't all that popular a location for auto shippers to run to or from, despite the fact that several major east-west interstates run through the area. This isn't to say that auto transporters won't go to Albuquerque; it just means it will probably cost a bit more, because there is not a whole lot around it that they can quickly get to, and there aren't a whole lot of people going there in the first place. Numbers pick up in the fall and winter months, as more people like to ship to Arizona for the winter months, but Albuquerque only sees a moderate increase in traffic along I-40, as many people are heading to Flagstaff. Still, it's generally cheaper to ship in the summer months due to the fact that there are a lot more shippers on the road, but pickup may be quicker in the winter months as more people are moving to the southwestern U.S. We recommend talking to your representative about the most current conditions and carrier availability into or out of Albuquerque, as these things do tend to change rather frequently.
If you are looking to ship a vehicle of any type from anywhere to anywhere in the United States, we here at Ultimate Auto Shipping can help. You can fill out our free online quote request form to the side of this blog post and receive a customized quote e-mailed to you within the next ten minutes. If you leave your telephone number along with your e-mail you will also receive a call from one of our friendly and knowledgeable auto transport representatives, who will call you to confirm you received your quote and ask you some questions to get some more information to better tailor your quote to your shipment. If you would rather call us, you can contact us toll-free at (954) 796-2023 to speak to one of our staff members about transporting your vehicle today.