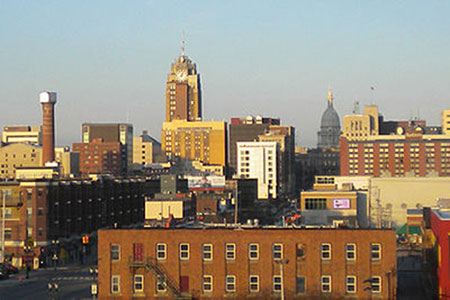 The city of Lansing is the capital of the state of Michigan, but it is far from the largest city in the state. Being the capital, however, does have its perks - for one, it's a bustling little metropolitan area that sits about a hundred miles or so west of Detroit, the largest city in Michigan. Lansing has a metropolitan area of over 564,000 residents, and while in comparison to the larger metro areas like Los Angeles or New York it's fairly small, it's not a bad size all things considered. Lansing is not incredibly popular in terms of auto transport carriers, as it doesn't sit along any major interstates that link to other major interstates, but it's not incredibly unpopular like North Dakota because getting to or from there, despite its location, isn't all that difficult all things considered.
Though it doesn't sit along any major interstates, it does sit along the route of I-96 and I-69, two primary interstates that service much of inland Michigan. Lansing connects to other major metro areas primarily via those two interstates, allowing transporters at least ways to get around the area quickly without having to go too far off their beaten path. It's easy enough to run quickly into Lansing, though it may cost a bit more because it is off the main interstate of I-90, which runs east-west near the southern border of Michigan. This isn't terrible when it comes to your price; in fact, some shippers may run to Lansing regardless, as other areas such as Kalamazoo, Kentwood and Flint are easily accessible from Lansing, which sits really in the middle of all those minor metro areas around Michigan.
If you are looking to ship a vehicle of any type from anywhere to anywhere in the United States, we here at Ultimate Auto Shipping can help. You can fill out our free online quote request form to the side of this blog post and receive a customized quote e-mailed to you within the next ten minutes. If you leave your telephone number along with your e-mail you will also receive a call from one of our friendly and knowledgeable auto transport representatives, who will call you to confirm you received your quote and ask you some questions to get some more information to better tailor your quote to your shipment. If you would rather call us, you can contact us toll-free at (954) 796-2023 to speak to one of our staff members about transporting your vehicle today.