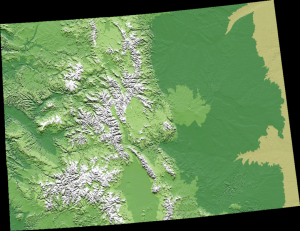 The state of Colorado is large in terms of total area, but because it is split in two by the Rocky Mountains, moving anything in or out of most parts of the state can be difficult. Denver, the largest city in the state by population, sits on the eastern side of the Rocky Mountains and is home to a vibrant metropolitan area that includes cities such as Boulder, Littleton and Lakewood. Denver itself has a population of over 634,000 residents, a bit more than a tenth the population of the entire state. Other major cities east of the Rockies in Colorado include Fort Collins, which sits north of Denver; Colorado Springs, which sits a bit south, and Pueblo, which sits further south than Colorado Springs. This creates a lengthy urban sprawl along the eastern foothills of the Rocky mountains, which certainly helps when it comes to getting to and from the area.
Aside from the mountains in the middle of the state, there are few major interstates that service Colorado, with perhaps the most well-known being I-70, a major east-west corridor that goes right through the heart of the Rocky Mountains. The stretch of I-70 through Colorado has been considered an engineering marvel, with stretches of road including the Eisenhower Tunnel under Loveland Pass, the stretch through Glenwood Canyon, as well as Vail Pass. It runs straight through Denver, but because of where it goes in the Rocky Mountains many auto transporters try to avoid those stretches of I-70. Typically they'll use it when transporting vehicles east of the passes, for instance from Denver to somewhere east of it, and while some may run through the Rockies many that do will charge more for those services. As for north-south interstates, I-25 is the main one, running through most metro areas in Colorado including Pueblo, Colorado Springs, Denver and Fort Collins on its way from southern New Mexico into eastern Wyoming.
If you are looking to ship a vehicle of any type from anywhere to anywhere in the United States, we here at Ultimate Auto Shipping can help. You can fill out our free online quote request form to the side of this blog post and receive a customized quote e-mailed to you within the next ten minutes. If you leave your telephone number along with your e-mail you will also receive a call from one of our friendly and knowledgeable auto transport representatives, who will call you to confirm you received your quote and ask you some questions to get some more information to better tailor your quote to your shipment. If you would rather call us, you can contact us toll-free at (954) 796-2023 to speak to one of our staff members about transporting your vehicle today.