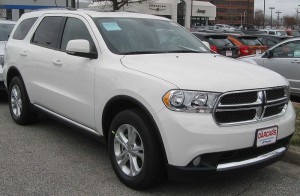 A sport utility vehicle built by the Dodge division of Chrysler, the Dodge Durango was introduced in 1998 as a mid-size SUV; however, in 1999 Dodge reclassified it as a full-size SUV. In production ever since, the Durango is currently in its third generation. As the Durango has been around for quite some time, most auto transporters are familiar with its dimensions and overall size, so you should not encounter any problems with shipping it. Though the Durango comes in several variants, the exact sub-model of your Durango should not be required by your shipping company, as the differences between each variant are primarily under-the-hood or varying features - the overall size and weight of the vehicle remains relatively the same, unlike some pickup truck lines.
The Durango may be a bit more expensive to transport than a standard car along the same route, but any adjustments will be relatively minor, on the whole. Unlike pickup trucks and large cargo vans, which can see price hikes in excess of $300 (if they're large enough or heavy enough), the Durango does not weigh a considerable amount more than a full-size sedan, which is the largest type of sedan that comes with no oversize vehicle fees. These fees are what we're discussing, and unfortunately there's little to be done about them; they're imposed to help offset the cost of transporting heavier vehicles, as heavier vehicles on a truck cause a drop in fuel efficiency, which cuts into the shipper's fuel budget. This is standard across the industry, but it will be built into any quote that you get, and you will not see it imposed at a later date.
If you are looking to ship a Dodge Durango, we here at Ultimate Auto Shipping can help. You can fill out our free online quote request form to the side of this blog post and receive a customized quote e-mailed to you within the next ten minutes. If you leave your telephone number along with your e-mail you will also receive a call from one of our friendly and knowledgeable auto transport representatives, who will call you to confirm you received your quote and ask you some questions to get some more information to better tailor your quote to your shipment. If you would rather call us, you can contact us toll-free at (954) 796-2023 to speak to one of our staff members about transporting your vehicle today.