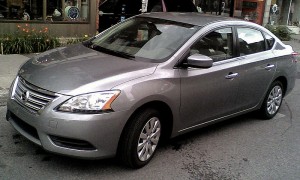 The Nissan Sentra is a compact car sold as the Nissan "Sunny" in Japan. Originally billed as a subcompact car for a long time, Nissan upgraded the Sentra to a compact and introduced the Nissan Versa as their new subcompact. In production since 1982, most auto transporters who have been around the block know how to handle something like a Sentra. As a small car, it will also cost you the least of any type of vehicle, which is definitely a boon if you're looking to save money on your vehicle shipment.
Perhaps the most important aspect of shipping a Sentra isn't the type of vehicle, but rather where you are shipping it from and to. Auto transporters prefer to run routes along heavily-traveled interstates through major metropolitan areas; as such, you can save some serious time and money if you ship to or from major metropolitan areas yourself. For instance, if you're looking to ship a vehicle from Macon, Georgia, to Seattle, Washington, moving your vehicle to Atlanta could conceivably save you some time on finding a transporter as well as help lower the cost of your shipment. You should, however, make sure to let your shipper know whether or not your Sentra is running - if it is not, your cost will increase by anywhere from $100 to $200, as non-running vehicles require a special tool called a winch in order to load and unload them from the transport truck.
If you are looking to ship a Nissan Sentra, we here at Ultimate Auto Shipping can help. You can fill out our free online quote request form to the side of this blog post and receive a customized quote e-mailed to you within the next ten minutes. If you leave your telephone number along with your e-mail you will also receive a call from one of our friendly and knowledgeable auto transport representatives, who will call you to confirm you received your quote and ask you some questions to get some more information to better tailor your quote to your shipment. If you would rather call us, you can contact us toll-free at (954) 796-2023 to speak to one of our staff members about transporting your vehicle today.