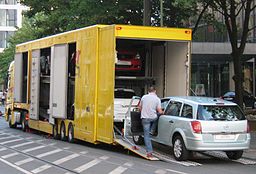 Enclosed auto shippers come in many different shapes and sizes. Though enclosed transport is not the fastest way to transport your vehicle, it provides additional protections that open auto shipping carriers do not. Enclosed shipping trucks come in different shapes and sizes, ranging from smaller one-or-two car containers to some that can transport four or six as they cross the country. When it comes to shipping your vehicle and gathering quotes, enclosed carriers are recommended only for expensive or valuable vehicles, which is why we've compiled this helpful FAQ page. Here we'll answer some of the most common questions about enclosed auto transport services for your convenience and to help prepare you for your transport.
How expensive is enclosed auto shipping?
Enclosed transport prices do depend on where you're shipping from and to, as mileage plays a big role in calculating your transportation price. However, it's usually anywhere from 35-50% more expensive than open transport would be along the same route.
Are there only specific vehicles I can ship enclosed?
Though enclosed transportation is recommended only for vehicles that would lose value if they were shipped on an open carrier, technically you could ship any vehicle enclosed. Generally it is not recommended for most vehicles, especially those that are driven every day, as the higher cost and longer pickup windows generally make it less appealing to many customers.
How long will enclosed auto shipping take?
Generally the amount of time from the date of booking to the date of pickup is generally one to seven days; however, with enclosed auto shipping services, that seven-day window could easily become a fourteen-day window. This is because there are fewer enclosed shippers on the road, which means potentially waiting for a truck to be in your area as opposed to one either being there or on their way.
Are enclosed auto shippers insured?
Yes. Though they provide additional protection from damage than an open transport truck, enclosed shippers are still held to the same standards as every other auto transporter on the road. This includes having full cargo insurance for the vehicles they transport.
Can I ship a non-running vehicle with an enclosed auto shipping truck?
Yes. Though many open carriers require a winch, some enclosed auto shipping trucks are equipped with a vehicle lift, so they do not have to drive vehicles up a ramp. This is especially nice for non-running and lowered vehicles, though carriers with a lift may cost more than those without – you should talk to your representative for more information.
Regardless of where you're shipping or what exactly it is you're looking to ship, we here at Ultimate Auto Shipping are here to help. You can fill out our free online quote form to the right of this page to get a free, no obligation quote sent to you via e-mail. If you leave your telephone number we'll give you a call as well to give you your quote and discuss the possible transportation of your vehicle. You can also call us directly at our toll-free number at 877-796-2023 if you'd like to receive a quote over the phone, or if you would like to place an order or simply ask us some questions. Regardless, we're here to help, so fill out our form or give us a call today.