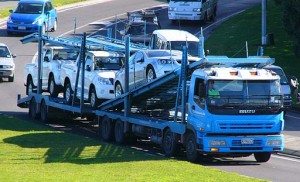 Open auto carriers come in many different shapes and sizes. As the main method of auto shipping available to customers today, it's generally going to be the cheapest to book with and the fastest to get your vehicle picked up. Carriers come in different shapes and sizes, ranging from smaller two-or-three car haulers to massive ten-car carriers that traverse the entire country. When it comes to shipping your vehicle and gathering quotes, open carriers will almost always be the de facto shipper that your auto transporter will look for, and that's why we've compiled this helpful FAQ page, where we'll answer some of the most common questions about open auto transport services for your convenience.
How much does open auto shipping cost?
Generally, the price for open auto shipping services will be the lowest of the available carriers – the others being enclosed and flatbed services. However, much of the price will actually involve where you're shipping from and to and what you're shipping. For more, you can fill out our free quote form to get a quote for your shipment at absolutely no charge to you. You can also call our office at 877-796-2023 to speak to a live representative.
Will I be able to choose what rack my vehicle is loaded onto?
This depends on the driver, but generally the answer is no. Open transport truck drivers have to make sure that their loads are loaded and arranged properly, so they can quickly unload vehicles scheduled for delivery and load new vehicles. Time is money for auto transporters, and the less time they spend arranging the vehicles on their truck the more time they spend driving and making money. You can ask your representative for more information or for a driver that will accommodate your vehicle's specific needs.
How long will it take for my vehicle to be picked up?
As the most common type of transport truck in the industry, open auto shipping services can generally get your vehicle picked up within 1-7 days of the day you booked your order. This may vary depending on where you're shipping from and to as well as the availability of shippers in your pickup area, so speak to your car shipping representative for more information.
Will my vehicle change trucks once it is on the road?
No. The transport truck your vehicle was loaded onto will be the same that delivers it to you. There are times when your vehicle may be loaded onto a different truck en route, but this will only be if there are mechanical problems with your original transporter or something like that – basically, only if the original truck your vehicle was loaded onto cannot make it to the delivery point.
Can I put a cover on my vehicle if it's being shipped on an open carrier?
Open auto shipping truck drivers typically do not allow covers on the vehicles they are shipping. There is a lot of wind shear on the cars they ship while they are moving, and if a slip or a vehicle cover is not secured properly it could cause a road hazard should it fly off. If you are concerned about damage occuring to your vehicle during transport, open auto shipping perhaps may not be for you; consider enclosed auto shipping services if this is the case.
Regardless of where you're shipping or what exactly it is you're looking to ship, we here at Ultimate Auto Shipping are here to help. You can fill out our free online quote form to the right of this page to get a free, no obligation quote sent to you via e-mail. If you leave your telephone number we'll give you a call as well to give you your quote and discuss the possible transportation of your vehicle. You can also call us directly at our toll-free number at 877-796-2023 if you'd like to receive a quote over the phone, or if you would like to place an order or simply ask us some questions. Regardless, we're here to help, so fill out our form or give us a call today.