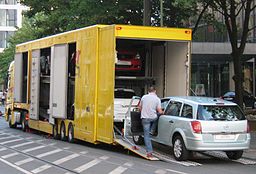 Enclosed auto shipping carriers are one of two primary auto transport trucks that operate on the road. Unlike open auto shipping carriers, enclosed carriers completely enclose the vehicles that they ship in a container, so as to better protect them during transport. Open transport is great when you are shipping a car that you plan on driving often, or one that you haul your kids around or do your grocery shopping in. Enclosed transporters, however, cater to a more select clientele: typically, they'll transport only higher-end cars, such as exotic cars, rare or hard-to-find cars, or otherwise rather expensive vehicles in general. The types of vehicles that can't really run the risk of any type of damage whatsoever are best-suited for enclosed transportation services.
Enclosed auto transport carriers will charge much more than open carriers to transport vehicles, mainly because there are less of them on the road. It costs a lot to own, operate and maintain an enclosed carrier, and since there are fewer customers looking for enclosed services they must charge more or else they wouldn't be able to operate their trucks or keep them fueled and in service. If you're in the market for an enclosed auto transport carrier, make sure to note that whenever you're getting quotes from auto transport companies, because the price difference is anywhere from 35-50% more than an open car carrier. We here at Ultimate Auto Shipping can provide you with the most competitive enclosed auto shipping rates in the industry; we work with a variety of different auto shippers to make sure that you get the best auto transport services for your specific needs.
During the winter months lots of customers are interested in enclosed shipping for vehicles that normally would not need it because of the harsher weather conditions. This is completely understandable, but many vehicles don't need to be enclosed as it would be a waste of money. The vehicles that you want to ship enclosed are those that would lose value if they were to be shipped on an open carrier at any time of the year; most vehicles will absorb any loss in value because it doesn't really affect the overall value of the vehicle, but some vehicles can't take that chance. Those are the vehicles that you should enclose in a carrier. If you are interested in enclosed transportation despite this article, you can call us for a free quote any time. Read our enclosed auto shipping FAQ for more information.
At Ultimate Auto Shipping we'll work hard to find an enclosed auto transport carrier for your specific needs, but typically your pickup window will be stretched. You can fill out our free online quote form to request a free enclosed auto transport quote and we'll e-mail you and call you with your price as soon as possible. You can also call us toll-free and speak to one of our live agents, if you'd prefer it that way. Our live agents are trained in the auto shipping industry and will be able to answer your questions and, at the very least, point you in the right direction for your specific needs.