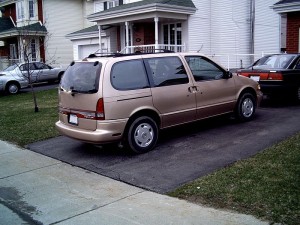 Transporting a minivan from one part of the U.S. to another is a lot like transporting a sport utility vehicle in terms of the size and weight of the vehicle being shipped. Minivans are great - they allow people to move a lot of stuff around without the burden of a trailer or a second vehicle, and are perfect for larger families with lots of kids. Generally, when transporting a minivan you shouldn't see any oversize or overweight vehicle shipping fees, on the whole, though there are some minivans that come with a bit higher price for shipping because of how large they are (a good example is a 12-passenger van, which is longer to accommodate more people).
When transporting a minivan one of the most important things that can affect your price is, ironically, not the vehicle itself but rather where you are transporting it from and to. Moving your vehicle to or from major metropolitan areas that lie along major interstates is a great way to save some cash; carriers are more willing to pickup loads that don't take them too far off their established routes. Carriers spend all day driving, and they drive hundreds of miles per day. Even going so far as 50 miles away from an interstate can jump your price up by quite a bit. Of course, this all depends on the cities you're transporting your vehicle to or from; there are plenty of cities that lie a few miles away from their interstate that they will move to or from for no extra charge.
Having the year, make and model of your minivan is also important, as some minivans are larger than others and can take up more space on a transport truck (which in turn means a higher price). You should always tell us up front what specific minivan you're moving and whether or not it has been modified in any way, or if it is not running, or really anything else that might be good to know. If your minivan does not roll, brake, steer or start, you should tell us before booking your order, as those factors will more than likely affect the price that you will have to pay for transport. Read more about our minivan transport services via our minivan shipping FAQ page.
Regardless of where you're shipping or what exactly it is you're looking to ship, we here at Ultimate Auto Shipping are here to help. You can fill out our free online quote form to the right of this page to get a free, no obligation quote sent to you via e-mail. If you leave your telephone number we'll give you a call as well to give you your quote and discuss the possible transportation of your vehicle. You can also call us directly at our toll-free number if you'd like to receive a quote over the phone, or if you would like to place an order or simply ask us some questions. We're here to help you with all your auto shipping needs.