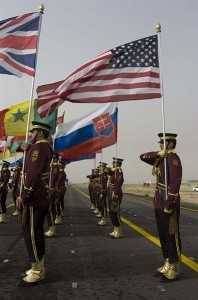 We here at Ultimate Auto Shipping are proud to provide discounts to all members of any branch of service. The U.S. Military will provide transportation for servicemen and women who are reassigned or transferred to another base or part of the country. Many military members have families that follow them from assignment to assignment, and the military provides transport for household goods and one vehicle. This is great if you're a small family with one car, but if both you and your spouse drive and have their own vehicle one of you will need to get your vehicle transported by an independent auto transporter.
We understand how frustrating this can be, which is why we work hard to make sure that we provide our military members with the help that they need moving their vehicle from one location to another. All our military discounts come out of our deposit. Since the discount is off of our portion of the payment and not the carrier's your pickup windows will not be affected in any way. This is in contrast to the way that many companies provide their discounts - they'll simply knock some money off of the total price, but more often than not that money goes out of the carrier's pay and not their own, which is bad for you because it will undoubtedly increase your pickup window and make it more difficult for your transport company to find a carrier to transport your vehicle in a timely manner.
We want to provide the best service we can to all our customers. This means that we make sure we only work with the best carriers in the industry and we make sure that nothing stands in the way of you getting the best transportation service for your vehicle. We understand the importance of your vehicle and we want to make sure that everything goes perfectly when your vehicle is transported. If you are a military member feel free to call us for a free quote and let us know that you are a member of the armed forces. You can fill out our free online quote request form as well, though your military discount probably will not show up in the e-mailed quote price; this is why we recommend calling us to discuss your specific transport. You can call us toll-free at (954) 796-2023 to speak to one of our live agents any time during regular business hours.