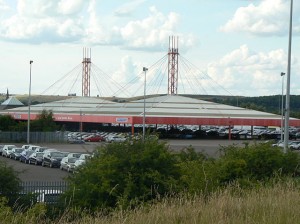 Buying a car from an online auction is a big endeavor. Granted, it's much easier than buying at an auction house on-site, and it is much more convenient, but unlike buying from an on-site auction, buying from an online auction means you need to transport your vehicle to you as opposed to simply driving it home yourself. You can buy just about any type of car in an online auction, from project cars that don't run to high-end vehicles that are highly sought after by collectors. This is why it's important to find the right auction auto transport services for your specific vehicle, so you don't end up buying a car and then having it ruined before you even get it!
With many different online auction sites available for you to buy from, you should understand the auto transport aspect of it as well. Most auctions, however, either have an auction warehouse where the vehicles are stored, or, like eBay, it is customer-driven. Many dealerships use auctions to find cars, and dealer auto transport services go hand-in-hand with auction shipping services too. When buying from an auction, make sure that there are pictures of the vehicle you are buying so you get a better understanding of its condition, and if you're buying from a customer-to-customer site like eBay you should make certain that it is the car you say it is. This is where shipping comes in handy – a reputable transport company will always get the information of the vehicle so they are sure they are picking up the right vehicle. We've seen more than once a customer that buys something online and the seller tries to ship something else to them instead. It is rare, but it can be a problem.
The vehicles you can buy at auction vary, and as such finding the right auto transport carrier is important. Open auto shipping carriers should be used if you're buying a project car, or one that does not require any special attention. Many people will buy cars that they intend to drive every day from auction, and these are the ones that you want to use an open carrier with. On the other hand, there are plenty of cars that require the services of enclosed auto shipping carriers because they are expensive, rare, hard-to-find, exotic, classic, or just really, really nice-looking. Both types will travel to an auction house to pick a vehicle up, but make sure you know which one you want or need before buying from an auction.
We can provide you with a free quote to ship from anywhere, to anywhere in the U.S. from any auction house or independent seller you can think of. All it takes is you filling out our free online quote request form, conveniently located to the right of this page, and we'll contact you with your quote via e-mail and telephone as soon as we can. You can also call us directly at our toll-free telephone number and speak to one of our live auto transport representatives if you'd rather talk over the phone, but either way you'll find that we here at Ultimate Auto Shipping can help you with any and all auto transport services you need.