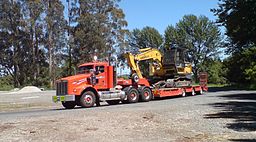 Transporting construction equipment is anything but an easy task. Most pieces of construction equipment are big, bulky and truly must be that way because of what each piece of construction equipment is used for and why they are valuable when it comes to... you know... constructing things. There are a lot of different pieces of construction equipment out there, of all different shapes and sizes, and this can be one of the biggest challenges when it comes to shipping your construction equipment. Most every piece of construction equipment out there will need to be transported on a flatbed auto transport truck, as they will generally be too heavy and too large to be put on a standard truck.
This means when you call us up for a quote on your construction equipment transport needs, please have the specific year, make and model of your construction equipment on hand and ready to give to us if we ask for it. You should also have the dimensions of the equipment, as well as what it is exactly. Is it a bulldozer or a bobcat? Do you need to ship a dump truck? With so many different construction things out there, knowing exactly what you are shipping will allow us to get you a better and more accurate auto transport quote, which in turn will help us get your construction equipment moved that much more quickly.
As construction equipment is much heavier and bulkier than even a large pickup truck, we will need to find a flatbed transporter that has a large enough truck to be able to move it. Flatbed trucks come in many different shapes and sizes. Some are built to haul a single car, while others are built to haul things that are incredibly long and heavy. Knowing which type of flatbed shipping truck you will need to transport your construction equipment depends on exactly what you are shipping, and this is why we tell you to be as accurate as possible when giving us the vehicle information regarding your construction equipment. We also recommend calling us if you want to get a free quote to transport your construction equipment; our number is (954) 796-2023. Speaking to a live agent will yield the most accurate quotes for your construction equipment transport services always.
Regardless of where you're shipping or what exactly it is you're looking to ship, we here at Ultimate Auto Shipping are here to help. You can fill out our free online quote form to the right of this page to get a free, no obligation quote sent to you via e-mail. If you leave your telephone number we'll give you a call as well to give you your quote and discuss the possible transportation of your vehicle. You can also call us directly at our toll-free number if you'd like to receive a quote over the phone, or if you would like to place an order or simply ask us some questions. We're here to help you with all your auto shipping needs.