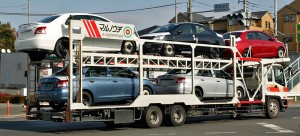 Transporting a vehicle with standby auto transport services is recommended only in a very small number of cases, because standby shipping is not really considered a standard method of transportation, at least in today's day and age. Most transporters will use either door-to-door or terminal-to-terminal transportation, and while technically standby services will use one of those two methods it is actually a very different process from booking to pickup than most transport orders today. Standby, simply put, is when you pay a lower price for your auto shipping services on purpose in order to find a good deal on the shipment of your vehicle. Whereas most standard orders are picked up within one to seven days from the date of booking, standby transportation can take weeks or even months, as it relies on auto transport drivers being willing to pickup vehicles on a route for far less than what they normally would charge.
There are quite a few different factors that go into pricing your vehicle transport order, and where it's coming from and going to is just a start. Auto shippers will look at your pickup and delivery location information, but they'll also look at what you're shipping, how many other vehicles are going along that same route, and how easy your pickup and delivery locations are to actually get to. How far will they have to go in between stops? Will they be able to make money at each stop? These and a whole slew of other ones all go into your price, so when someone with a standby order comes along, you can imagine what those carriers would say to something so low-priced. It's our job to keep up with what the transport trucks are charging, and that's generally why we don't use standby auto transport.
Is it available? Yes, if you really, really want it. But most cases you won't. Will it save you some money? Possibly. But more than likely any money that you'd potentially be saving will be lost because no one will be willing to pick your vehicle up unless something drastic happens and they either have no choice or really need the money for the load. These are circumstances that usually end up resulting in bad transport experiences, which is why we try to avoid it. Transporters don't like to run standby routes, we don't like sitting on a standby order, and customers don't like it when it takes a month or two to get their vehicle picked up. So unless you're willing to wait the extra time in order to get a lower price on your shipment, standby auto transport services are generally not recommended by anyone, including us.
Regardless of where you're shipping or what exactly it is you're looking to ship, or how you want to get it there, we here at Ultimate Auto Shipping are here to help. You can fill out our free online quote form to the right of this page to get a free, no obligation quote sent to you via e-mail. If you leave your telephone number we'll give you a call as well to give you your quote and discuss the possible transportation of your vehicle. You can also call us directly at our toll-free number at (954) 796-2023 if you'd like to receive a quote over the phone, or if you would like to place an order or simply ask us some questions. We're here to help you with all your auto shipping needs.