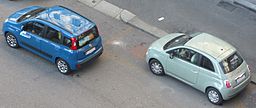 If you are looking for auto shipping services for more than one vehicle, you'll be thrilled with what you're about to read. Did you know that you can get a per-car discount if you're looking to ship more than one vehicle at the same time? Other companies don't offer a per-vehicle discount on your shipment, but we here at Ultimate Auto Shipping do. Multi-car discounts are common in the industry, to be sure, but we're one of the few that can offer such a substantial discount? Why? Because of who we know, that's why - and how we operate. We don't do gimmicks, we don't do stories. We transport cars, and our job is to make sure that you have as fantastic a shipping experience as possible, because our best form of advertising is word-of-mouth.
When you're shipping more than one vehicle you want to save money. Shipping one car by itself is expensive, but transporting multiple vehicles across state lines can quickly inflate to massive proportions which can make it hard to avoid paying through the nose. But if you're searching for auto shipping services chances are you need to get your car shipped, which is why we're here to help with our multi-car auto shipping discounts. Give us a call and speak to one of our live auto transport agents, and they'll be able to take some basic information and let you know how much you can save by shipping more than one vehicle at the same time. Of course, the entire order will cost more than shipping one car, but it will be less than double is ultimately what we're saying. For instance, shipping one vehicle in an order may cost $800. Add a second vehicle to that same order, and instead of paying $1600 you may only end up paying $1400. Add three cars into that, and, well, you get the idea.
We want to provide the best service we can to all our customers. This means that we make sure we only work with the best carriers in the industry and we make sure that nothing stands in the way of you getting the best transportation service for your vehicle. We understand the importance of your vehicle and we want to make sure that everything goes perfectly when your vehicle is transported. If you are a military member feel free to call us for a free quote and let us know that you are a member of the armed forces. You can fill out our free online quote request form as well, though your military discount probably will not show up in the e-mailed quote price; this is why we recommend calling us to discuss your specific transport. You can call us toll-free at (954) 796-2023 to speak to one of our live agents any time during regular business hours.