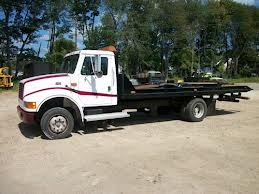 Flatbed auto shipping carriers are in an entirely different boat than open or enclosed transport trucks mainly because there are so few of them operating on the roads today. This is because the need for flatbed shipping is quite low; if 95% of all vehicles shipped per year are shipped via an open transport truck, and another 3% are shipped by enclosed auto shipping carriers, 1% are motorcycles, and that leaves a small percentage for the flatbed transportation market. Unlike most auto transport carriers, flatbed carriers, on the whole, do not run specific routes; they go from area to area or service a specific region, to cover more area while keeping fuel costs low.
Flatbed shippers transport just about anything that cannot fit on an open auto shipping carrier. This includes larger vehicles such as limousines, lifted trucks and SUV's, construction equipment - just about anything large that you can think of will typically need to be shipped on a flatbed transport truck. Since flatbed shipping is not the easiest type of transport to book we will try our best to move your vehicle on an open carrier, but sometimes there's just too much bulk or the vehicle is just too large to fit, and that's when we will begin searching for a flatbed carrier for your vehicle.
You can save us some time and save yourself some hassle if you provide the dimensions of your vehicle ahead of time. Most vehicles don't need to be measured, but if your vehicle is lifted, elongated or modified at all to be longer or taller or wider, we will need to know. Make sure that you have the specific year, make and model of your vehicle before anything else; these are the easiest way to identify a vehicle, especially if you're transporting a pickup truck or SUV. Once we get the year, make and model from you, let us know of any modifications, and we will then determine if we'll need the full dimensions of the vehicle.
We can get you quotes to ship via flatbed transport carrier from anywhere, to anywhere in the U.S. at a reasonable and competitive rate, and you can fill out our free online quote request form to get a free quote in you e-mail that was calculated by one of our auto transport staff members. Our representatives are also standing by to answer your phone calls - if you'd rather call into our office and speak to one of our live auto transport representatives, we can do that too. Just give us a call and you'll be connected to a live person who can answer your questions, compile a quote for you, check on orders for existing customers, give tips and tricks to make your auto transport experience the best it can be, and much more.