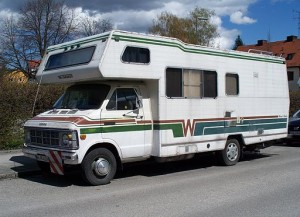 Truly, a recreational vehicle is anything that you can go and do something recreational in, though more often than not customers asking us to ship their recreational vehicle want to move one of two things: either an RV or a travel trailer. While the term "recreational vehicle" can encompass things such as dune buggies, golf carts and quad bikes, when we hear the term we think of an RV, a big motor home that you can drive around to different camping places and take the comforts of home away from home. A travel trailer is much the same thing, except that it cannot be moved under its own power; it must be towed or hauled around, usually by a big pickup truck or SUV. RV's and travel trailers come in all different shapes and sizes and prices can vary greatly depending on what you're shipping and how large it is.
Of the two, however, travel trailers are perhaps the easiest to ship, and there are several different ways that we can go about moving it for you. A common method is to actually hire someone who owns a pickup truck to hitch your travel trailer to their truck and simply drive it. Though it is not nearly as common as, say, an open carrier, there are plenty of people out there who transport travel trailers for a living. However, many customers are not wanting their travel trailer towed, but rather transported - in other words, put on a truck where the wheels won't roll. If you're interested in this type of shipment, we can hire a flatbed transport truck to load your travel trailer onto it and then transport it for you. Flatbed carrier rates vary greatly depending on what you're shipping and where you're shipping from and to, so call us for more information about transporting your travel trailer via a flatbed carrier.
For recreational vehicles (or RV's, to be specific), most of them are transported via a flatbed carrier, though depending on the size of your RV it could take a while to find one large enough to move it. Smaller RV's are usually easier to ship, but some motor homes eclipse 50 feet in length - almost the entire length of some flatbed trucks! Finding a carrier that can haul something so large can be challenging, but most of the time the RV's we move turn out to be a bit smaller and will easily fit on the back of a flatbed carrier. It will usually take time for us to find transport services for recreational vehicles, but we can do it for you at a great price when compared to other companies out there.
Regardless of where you're shipping or what exactly it is you're looking to ship, we here at Ultimate Auto Shipping are here to help. You can fill out our free online quote form to the right of this page to get a free, no obligation quote sent to you via e-mail. If you leave your telephone number we'll give you a call as well to give you your quote and discuss the possible transportation of your vehicle. You can also call us directly at our toll-free number if you'd like to receive a quote over the phone, or if you would like to place an order or simply ask us some questions. We're here to help you with all your auto shipping needs.