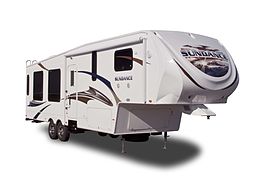 When you're looking to ship something that's not motorized, an auto transport company may not be the first thing you think of; however, it really depends on what you're shipping on. For instance, we may not be able to ship a kitchen table, but we can ship a travel trailer that has a kitchen table in it. The reason why is because while a travel trailer is not motorized, it does have wheels and typically is hauled behind a pickup truck or something else capable of hauling it. They come in all different shapes and sizes, from tiny two-person trailers you can tow with a small SUV to giant luxury trailers that take a diesel-powered pickup to effectively move, and knowing what to expect when you're shipping one via an auto transport carrier is a good thing we think.
Ultimately any travel trailer will need to be shipped via a flatbed transport truck - they're almost all too large to fit on a standard auto transport trailer and even then, how exactly would you load it? With a flatbed trailer your travel trailer can be loaded onto it via a pickup truck, which you can then unhitch and drive off the truck or else you can just park it with the trailer (loading methods may vary; check with your driver for their methods in loading and unloading a travel trailer). Travel trailers are usually a bit more expensive to ship than a motorhome of a comparable size given the fact that they aren't motorized and will have to be loaded via other methods other than driving it onto the truck.
It also doesn't help that they have to be shipped on a flatbed carrier, which usually means that prices will be higher because flatbed shipping is more expensive and chances are you'll be waiting a bit longer for your travel trailer to be picked up, as there are less flatbed shippers on the road than any other type of auto transport carrier. This, naturally, increases their prices dramatically, and since there are fewer on the road you will likely be waiting longer for a flatbed truck to actually pick your vehicle up.
If you're interested in transporting your travel trailer, you should definitely give us a call at (954) 796-2023 and speak to one of our live agents. Not only will they be able to provide you with an accurate travel trailer transport quote, but you'll also have an opportunity to ask them any questions you may have as well as what you can expect when transporting your travel trailer. Different carriers provide different types of services, so we definitely recommend letting our representatives know exactly what you're looking for out of your travel trailer shipping experience - this will make things easier for everyone and will let us serve you better.